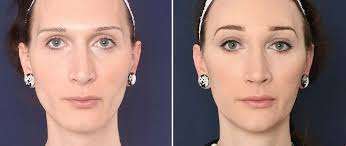 The chin has a very prominent effect on the look and overall symmetry of the face. Depending on your genetic background, your chin can appear either round, square, or pointed. Also, a chin can be classified as prominent and strong, or small and weak. Genioplasty, or a chin implant, provided by HLCCS will provide a natural and beautiful result by chin augmentation.
If you feel that your chin doesn't seem to match your overall facial features or if you feel that you would like a more defined facial silhouette, then contact us for a consultation.
Chin Correction
Chin correction is a surgery that targets to enhance the advent of the chin when it comes to the face. This beauty method corrects a totally outstanding or very small chin that influences the concord of the face. With a small chin, the beauty general practitioner can region a chin implant to enhance it, even as a very outstanding chin may be stepped forward with a method that contours the chin bone.
Chin Reduction Surgery Recovery
A chin correction surgical operation also can be prescribed as a complementary method to different facial correction surgical operation, together with rhinoplasty (generally referred to as a nostril job), jaw correction, or cheek implants.
Chin augmentation is frequently accomplished for human beings with a vulnerable chin, or a especially weaker chin after a rhinoplasty or a cheek implant surgical operation.In this method, the general practitioner will region an implant—manufactured from the affected person's bone (donated from the pelvic bone or the ribs), processed animal bone, or artificial, medical-grade filling substances—immediately over the chin bone and beneathneath the skin. Silicone, Gore-Tex (additionally referred to as polytetrafluoroethylene), and polyethylene are perfect chin implant substances due to the fact they're bendy and do now no longer motive negative reactions in maximum sufferers.
In a chin augmentation method, the affected person will want to seek advice from first with the plastic general practitioner to devise the method carefully.